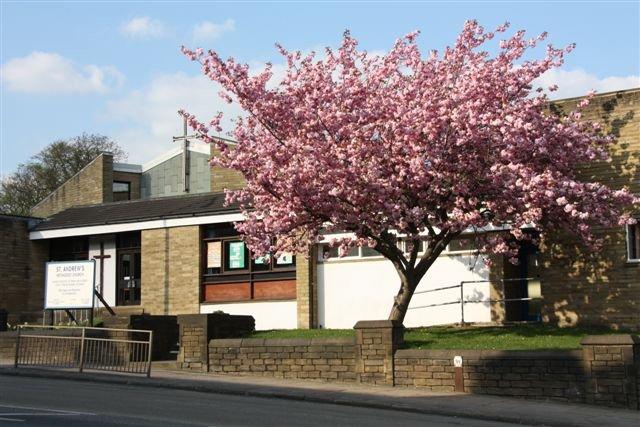 Welcome to
St.Andrew's
Methodist Church,
Halifax,
West Yorkshire.
Our Mission
St Andrew's Methodist Church seeks to share the love of God as revealed by Christ, through the Holy Spirit.
Our Purpose
We are a witnessing community of Christians seeking to share our faith. By our worship and work we proclaim the love of Jesus to all people.
++++++
A MESSAGE FROM OUR MINISTER
Christmas has been and gone and Easter eggs are already on sale! Every February, across the country, chocolates, flowers, and gifts are exchanged between loved ones, all in the name of St. Valentine. But who is this mysterious saint and why do we celebrate this holiday? The history of Valentine's Day - and its patron saint - is shrouded in mystery. But we do know that February has long been a month of romance. St. Valentine's Day, as we know it today, contains vestiges of both Christian and ancient Roman tradition.
One legend contends that Valentine was a priest who served during the third century in Rome. When Emperor Claudius II decided that single men made better soldiers than those with wives and families, he outlawed marriage for young men. Valentine, realizing the injustice of the decree, defied Claudius and continued to perform marriages for young lovers in secret. When Valentine's actions were discovered, Claudius ordered that he be put to death on the 14th day of February, about the year 270.
Today, many seek romance by reading novels published by Mills & Boon or written by such authors as Barbara Cartland. Yet many seem to dismiss the idea of reading the best and most widely published romantic novel there is – the Bible. The whole Bible story is just one big love story.
We are told in Genesis how God lovingly created everything and walked in the garden with Adam. We are told then told how, time and time again, the love of God was rejected by the Israelites. The book of Hosea compares the relationship to that of a woman who has been unfaithful to her husband whose love enables him to take her back again. The death of Jesus is the ultimate sacrifice of someone who loves another more than their own life – how many romantic stories are about the hero laying down their life or giving up their freedom for the one they love?
Several of the stories used by Jesus refer to weddings, brides and bridegrooms. Even the final "chapter" of the love story – the Book of Revelation – talks about the church being the Bride of Christ. Why not sit down this month and try and find out more about this romance that God wants with you by reading of the things he has done – the extravagant gifts he wants to give, the promises he has made and all the other ingredients that go to make up a loving relationship. Let this love story help you journey from the baby in the manger to the man on the cross this Easter.
May 2018 be a year of blessing for you and your family.
Prayer:
Lord, I know that one of the best ways I can show my love for you is by loving other people. Sometimes that is easy – when I am with people I like. Please help me when loving is hard, when people are unkind, when they don't understand, when I just don't like them. Teach me to love as you loved when you were walking about in Palestine. Teach me to love as you love now – everyone, always. Amen.
Rev.Terry Keen