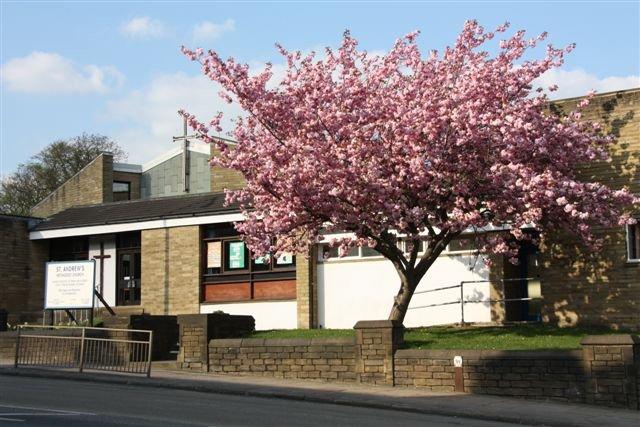 Welcome to
St.Andrew's
Methodist Church,
Halifax,
West Yorkshire.
Our Mission
St Andrew's Methodist Church seeks to share the love of God as revealed by Christ, through the Holy Spirit.
Our Purpose
We are a witnessing community of Christians seeking to share our faith. By our worship and work we proclaim the love of Jesus to all people.
ST ANDREW'S IN THE SPRING
PLEASE JOIN US ON ZOOM AT 10.00 A.M.
You are invited to a scheduled Zoom meeting.
If you would like to join, either contact a church member or use the contact form on this site
TODAY'S SERVICE HAS BEEN PREPARED FOR US BY OUR MINISTER
THE REVD TERRY KEEN
CALL TO WORSHIP:
Almighty God, we gather to praise you, to be once more in your presence, to consider your handiwork, and to remind ourselves of all that you have done in our lives, all that you are doing, and all that you will continue to do. We would bring you our worship, receive our praise.
Help us truly to praise you, not just in words and appearance, but in our hearts, our thoughts, and our lives. So, may we offer to you the truest expression of our praise: a life of faithful discipleship, a love for you and one another, and a living commitment to Christ. We would bring you our worship: receive our praise.
In his name we ask it. Amen.
SONG: Jesus calls us here to meet him (StF 28)
PRAYER
Merciful God, we know that there are times when our attitudes and behaviour, our words and deeds, can so distance us from you that our lives become arid and life-less, lacking meaning and hope. But you breathe new hope into our lives in Jesus and through the gift of your Spirit. The areas we thought were dead spring into life and circumstances we believed were beyond redemption suddenly take on a new light. Wounded hearts are healed of their resentment and desire for revenge. Our vision expands to discern the signs of mercy and love which are present when we set our minds on your holiness and on the depth of your love for us. Love revealed so clearly in Jesus' persistence in showing how the power of evil and even death can be overcome when lives are linked with yours through him. We worship and adore you, O God, with hearts filled with gratitude and praise.
The Apostle Paul writes that "to set the mind on the flesh is death, but to set the mind on the Spirit is life and peace." We confess, O God, that when we, as your people in this place, set our minds on the things of the flesh as opposed to the Spirit, our lives become all too easily influenced by and attracted to the powers of the world. Forgive us when our vision is limited by what we see as our weaknesses - whether we can afford to make plans for the future or not. Remind us that all things are possible when our minds are set on the Spirit.
Forgive us if we remain captive to patterns and programmes of the past. Remind us that newness and future possibilities can become reality when our minds are set on the Spirit.
Forgive us when daily news reports and personal experiences fill us with fear and depression, hopelessness and despair. Remind us that when minds are set on the Spirit, you give us the ability to cope because your Spirit, O God, brings life into the most deadening situations.
Forgive us when our words and actions conceal the truth of the gospel. Remind us that our integrity is alive and well when our minds are set on the Spirit.
A time of silence
Gracious life-giving God, set our minds, our hearts, and our lives anew on the Holy Spirit so that we are filled with your life and love, mercy and peace. May all our relationships be so bound together with these qualities that we are visible reminders that your Spirit, O God dwells in us. This we pray in Jesus' name. Amen.
BIBLE READING: John 17: 6 – 26.
WE WERE THERE IN THE UPPER ROOM,
We were there in the upper room,
just us and Jesus,
the night drawing in,
the end drawing near.
We knew it,
he knew it.
There could be no doubt any more, not for any of us;
no question of a last minute reprieve.
We'd seen Judas sneaking out, darkness in his eyes,
and we knew it wouldn't be long before the vultures descended,
hungry to devour their prey.
We wanted him to run for it;
back to Nazareth,
back to Galilee,
back to the safety of the wilderness,
anywhere but there in Jerusalem.
But he wouldn't listen, of course,
wouldn't even consider it.
So we stayed with him,
nervous,
fearful,
one eye over our shoulders, but determined to do our best for him.
He was under no illusions;
he knew full well what was coming –
an ugly, agonising death.
And it was getting to him,
eating away inside,
that much we could all see.
When he broke bread, he was trembling,
clearly petrified about what lay ahead;
and as he shared the wine, there was a sob in his voice,
a tear in his eye.
Yet then he spoke,
softly,
gently,
almost as if in a dream,
and we realised he was praying –
not for himself,
but for us!
Not for his own life,
But for the life of the world!
Yes, I know that sounds hard to believe, but it's true, honestly.
I was there, remember;
I heard him.
It wasn't his death that was troubling him,
it was fear that we wouldn't stay together,
that somehow we've become divided, even end up fighting among ourselves.
God knows why he thought that,
but you could see how worried he was,
how much our unity meant to him.
It was his dying wish in a way'
his last request –
that we should stay together:
one people,
one faith,
one God.
I'm sure he needn't have worried, least of all at a time like that.
All right so we've had our differences since then, I admit it –
We don't always see things the same way,
and maybe once in a while we might even have fallen out –
but I honestly can't imagine anything major coming between us, can you,
not in the long run?
After all, we're his disciples, aren't we, each on of us?
All called by him,
all confessing the same Lord,
and what could be more important than that?
No Ordinary Man, No 39 pp 132-134. © Nick Fawcett.
SERMON:
Imagine a church ...
... without a steeple,
... where the people are really the church
... where the church isn't defined by its building
... where "church" isn't a place you go but something you are and do
... where all are treated as equal, where gender, marital status, and age are all celebrated.
... where they are glad that you're here no matter where you come from, what you look like, how old or young you are, how much money you have, where you are on the journey of life, or where you are on the journey of faith.
Imagine a church …
... where the hunted, hated, misunderstood, rejected and outcast take refuge.
… where the illegal, the homeless, the broken, the highly educated, the illiterate find a home and a haven.
... where everyone who is in debt and has no way to pay it all back comes to that church.
... where everyone who is distressed, worried, depressed and unable to cope anymore comes to that church.
Imagine a church ...
... that doesn't see the unchurched and de-churched as the enemy but as the victim of the enemy.
... that isn't concerned about where you have been but where you are going
... where everyone who is oppressed by the number of times they have failed in the past comes to that church, and they find ...
acceptance
belonging
value
forgiveness … and a way back to God.
... that is helping abused women escape life-threatening situations.
... former inmates getting adjusted to life outside of prison.
... enabling and empowering the poor in the community to reach a place of being self-sustained.
... that stands with those on margins of society.
... offering the unconditional love of Christ without judgment, guilt, or shame.
Imagine a church …
... where we model real, gritty, difficult Christianity in front of our children, our friends and others who are looking on.
... where those who have seen a Christianity that does not attract them find an authentic, genuine yet attractive faith community.
... that preaches the Gospel that is never watered down.
... where people find significance, meaning and purpose, because there's freedom to engage in an honest investigation of Christian truth-claims.
Imagine a church …
... where the most important thing heard on Sunday morning doesn't come from the preacher or the music but from what God says through it all.
... that hears God's voice
… and listens to what he says
… and believes that only his will is important.
... that studies, prays, practices and praises with receptive hunger, deeper every day.
Imagine a church …
... that we come to on a Sunday because we have had a terrible week and we are hurting, struggling, even broken and we know that our brothers and sisters will ask … and listen … and care … and stand beside us in God's holy presence … and their arm around us is his arm around us.
Imagine a church ...
... where worship isn't described as traditional and contemporary but as relevant and passionate.
... that loves its heritage, yet flexibly entertains new people, new ideas, and new ways too.
... where you never hear the phrase, "It's never been done that way before".
Imagine a church ...
... that knows God has called it into existence at just the right time and in just the right place
… to be his voice
… his presence
… his actions
… and his love
… to the watching generation.
Imagine a church ...
... that is just as passionate about feeding those in the local community as well as overseas.
... where the hands, hearts and feet of every member, young and old, are shaped for service, and a church that does not lack imagination about ways to use them.
... where the true Gospel of mercy, grace, forgiveness and reconciliation are not just words on a page but at the very core of its ministry.
Imagine a church ...
... that consistently looks beyond itself, offering always to connect with people who are seeking a connection with God, binding up those whose lives are broken, endeavouring to follow the example of Jesus
... that clothes the naked
... visits the sick
... feeds the hungry
... goes to the prisons
... where the members don't look around and wait for the leaders or the others to show the love and compassion of Jesus they believe that God is asking them to do it and they look for ways to do it.
Imagine a church ...
... where people are hurting
… or have been hurt
… do not blame the church for their circumstances
… but rather see the church as the place, and the people, to come to through their time of hurt and pain.
… where relationships are authentic and individuals are known by name.
... where people are living out their full potential as they use their talents and gifts to make a difference in the lives of others.
Imagine a church ...
... that recognises and humbly acknowledges before God that it makes mistakes
… misses people
… even fails
… and often lets God and his people down.
Imagine a church ...
... where the person who asks 'How are you?' really wants to know the answer
… and is not looking over the person's shoulder for the next conversation.
... where the person asked does not just say 'Fine' because he or she knows that the answer matters
… because the person asking them is ministering to them guided by God.
Imagine a church ...
... that not only believes what God says
… but does what God is
… and knows that anything done without love is worthless.
The Believers Share Their Possessions
Now the whole group of those who believed were of one heart and soul, and no one claimed private ownership of any possessions, but everything they owned was held in common.
With great power the apostles gave their testimony to the resurrection of the Lord Jesus, and great grace was upon them all. There was not a needy person among them, for as many as owned lands or houses sold them and brought the proceeds of what was sold.
They laid it at the apostles' feet, and it was distributed to each as any had need. There was a Levite, a native of Cyprus, Joseph, to whom the apostles gave the name Barnabas (which means 'son of encouragement'). He sold a field that belonged to him, then brought the money, and laid it at the apostles' feet.
Imagine a church that says:
When you enter our church, you will be loved
unconditionally, always, and under every circumstance.
PRAYERS OF INTERCESSION
Almighty God, Your Son Jesus promised that if He was lifted up, He would draw all to Himself. Draw us to Him by faith, so that we may live to serve you and look toward life eternal. Lord, in your mercy, hear our prayer.
Loving and Compassionate God, your Son our Saviour is with you in eternal glory. Give us faith to see that, true to his promise, he is among us still, and will be with us to the end of time. Lord, in your mercy, hear our prayer.
God of the humble and homeless, the poor and the persecuted, thank you for exalting Christ Jesus and giving Him a name above all other names. Today we rejoice that He who was the meekest and weakest of all earth's children is at your right hand. Now we know that the homeless Son of man is more truly at home than anyone else on earth. We thank you for the glory you have granted him and we remember before you now those who, like he was, are the least among us - the homeless in our world - the refugees and the poor - the victims of war - and the little ones who have been left alone. Grant, O God, that they may know your love in this world - and join Christ in the next. Lord, in your mercy, hear our prayer.
God of the defeated and the lonely, the despised and the hungry, the misjudged and the imprisoned, the suffering and the dying, we thank you for coming among us in Christ Jesus to reconcile and make new all of creation. We pray now for those of your children who are in need. We especially hold before you today…, Lord, in your mercy, hear our prayer.
Eternal Father, Your Son Jesus Christ ascended to the throne of heaven that He might rule over all things as Lord. Keep the church in the unity of the Spirit and in the bond of His peace that we might show the world the light you want them to see. Bless your people here as we share in worship - and indeed all your people - with vision and faith, obedience, and joy. We ask it in Jesus' name. Amen.
THE LORD'S PRAYER
SONG: Will you come and follow me (StF 673)
BLESSING
Go in peace; love and care for one another in the name of Christ; and may the blessing of our crucified Redeemer be with you, may his resurrection power settle upon you and transform your days may his eternal love enlighten your souls and bring you at last to the fullness of his everlasting glory. Amen.