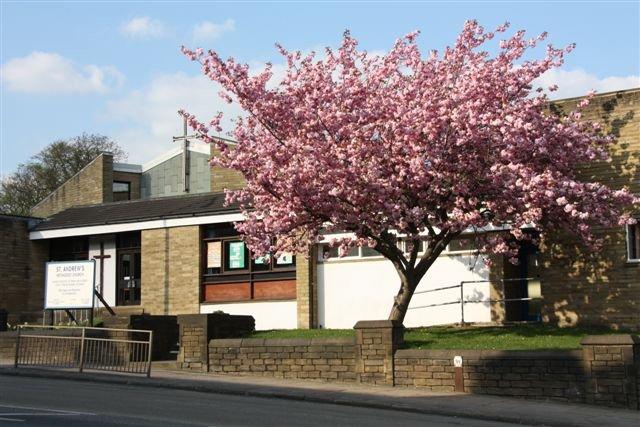 Welcome to
St.Andrew's
Methodist Church,
Halifax,
West Yorkshire.
Our Mission
St Andrew's Methodist Church seeks to share the love of God as revealed by Christ, through the Holy Spirit.
Our Purpose
We are a witnessing community of Christians seeking to share our faith. By our worship and work we proclaim the love of Jesus to all people.
+++++++++++++++++++++++++++++++++
FORTHCOMING EVENTS
+++++++++++++++++++++++++
MELODY BELLES
a local Ladies singing group will be here to entertain us on
Saturday 17th November 2018 at 2.30 p.m.
Afternoon Tea will be served during the afternoon.
Tickets are £7.00 for Adults and children aged 5 – 11 are £3.50
– no charge for children under 4.
Please do try to come along and support this event when
all profits will be going to the Church Development Fund.
++++++++++++++++++++++++
Answers to our latest fund-raising quiz:
ST.ANDREW'S AUTUMN QUIZ 2018
Congratulations to our winner Avril Corbett
1 Fiona is beheaded!(4) ________________________________Iona
2. Sounds like a daft group (8) ____________________________________Scillies
3. Find it in Noah's Ark. (4) _______________________________________Sark
4. Not one for the ladies. (4,2,3) ______________________________Isle of Man
5. Little fish needs tail replacing. (8) ­­­­­­­­­­­­­­­­­­­­­­­­­­­­­­­­­­­­­­­­­­­­­­­­­­­­­­­­­­­_________________________Sardinia
XXXXXXXXXXXXXXXXXXXXXXXXXXXXXX ________________________
7. Dismal tale includes it. (5) _______________________________________Malta
8. Another fish loses its tail. (4)_______________________________________Mull
9. Sounds like places for cutlery item (9) ________________________Falklands
10. Hidden in the crumble. (3}________________________________________Rum
11. Confused adolescent plays with combustion (8) _________________Tenerife
12. Need keys to undo this (4)_______________________________________Skye
13. Destination for Elizabeth 1? (6,7)_____________________________Virgin Islands
14. Re-organise the lands (8)-___________________________________Shetland
15. I break into it, boiled for breakfast (4)___________________________Eigg
16. Use half the jars with half the vase (4) __________________________Java
17. Detective with tweed (5, 3, 6) ____________________________Lewis and Harris
18. Eponymous sweater (6) _____________________________________Jersey
19. Greek bride lost, search here for her (5) ________________________Delos
20. Home of the devil (8) ___________________________________Tasmania
21. Head of the 'goat' (5) _____________________________________Capri
22. Dialect dirt (4) ___________________________________________Muck
23. One for the salad (3) _________________________________________Cos/Kos
24. Freezing cold here (7) ______________________________________Iceland
2 5. Napoleon's birthplace (7) ________________________________Corsica
26. Reversed assent after meeting Gabriel (8)_______________________Anglesey
27. It's romantic – lose 't' and reshuffle (7) _________________________Minorca
28. Coloured country? (9) ______________________________________Greenland
29. Bail better than jail (4) _______________________________________Bali
30. It's a major calamity – run! (7) _________________________________Majorca
Thanks to all who participated and to Hannah who compiled the quiz