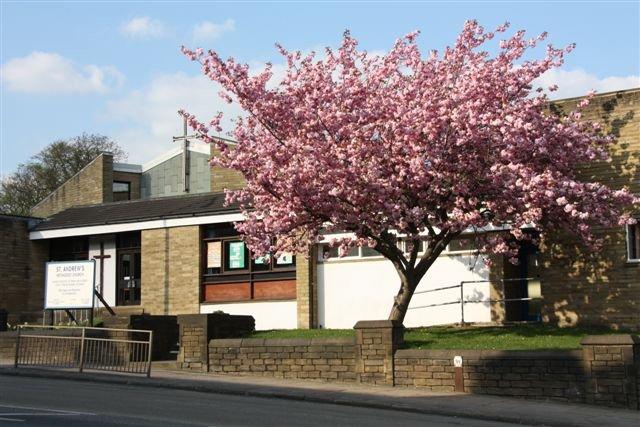 Welcome to
St.Andrew's
Methodist Church,
Halifax,
West Yorkshire.
Our Mission
St Andrew's Methodist Church seeks to share the love of God as revealed by Christ, through the Holy Spirit.
Our Purpose
We are a witnessing community of Christians seeking to share our faith. By our worship and work we proclaim the love of Jesus to all people.
CHANGE
In September we welcomed Rev.Terry Keen to be our new minister and Circuit Superintendent. Below he introduces himself:
Hello from your new Superintendent Minister Rev Terry Keen and his wife Linda. We are looking forward to being in Yorkshire once again having served in the Barnsley and Wakefield Circuits some years ago. I am the eldest of five children born in the centre of Manchester and raised a Roman Catholic. Linda and I re-connected to the church in 1984 at Mission England in Liverpool but didn't become members of the Methodist Church until later. I was recognized as a Local Preacher in July 1998 and started the candidating process in the September.
After studying at Hartley Victoria in Manchester, where I grew up, I was stationed in the Barnsley Circuit followed by Superintendency in Wakefield. My next appointment was to an ecumenical area where I was Superintendent and Chair of the ecumenical area working with URC, Anglican, Roman Catholic and Baptist clergy. This led to some interesting staff meetings and times of worship. My next station was the Crosby Circuit followed by this one to the Calderdale Circuit, both as Superintendent.
I enjoy leading Bible Studies, using multimedia and finding ways of supporting those living with Dementia to feel at home in worship. Some of my personal hobbies include collecting stamps, plane spotting, photography, writing routines for MS Access database software, travel and walking our 8-year-old German Shepherd, Ruby.
Both of us look forward to journeying with you over the next few years to where God is leading you. Together we will learn about each other and use those experiences to fulfil God's calling on our lives, our churches and this circuit.
Rev Terry Keen
==============================
MESSY CHURCH
this coming Friday 10th Nov
at 3.15pm
----------------------------
AFTERNOON CONCERT
BY THE
WESLEY SINGERS OF LEEDS
performing a selection of old favourites
and songs from the musicals
Saturday 25th November 2017
at 2.30pm
£6 per adult £2.50 per child including refeshments
Tickets from Margaret 07903 329149
or pay on door.