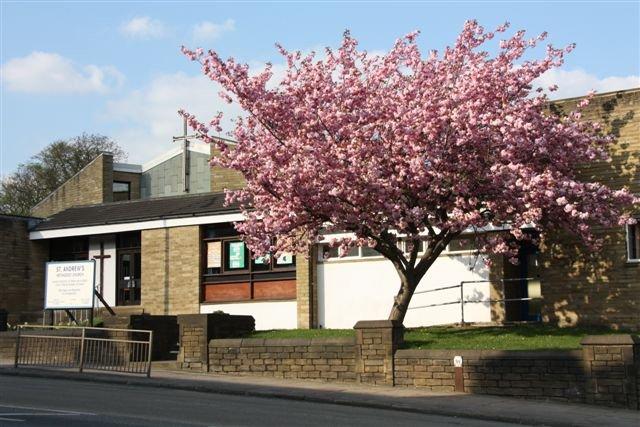 Welcome to
St.Andrew's
Methodist Church,
Halifax,
West Yorkshire.
Our Mission
St Andrew's Methodist Church seeks to share the love of God as revealed by Christ, through the Holy Spirit.
Our Purpose
We are a witnessing community of Christians seeking to share our faith. By our worship and work we proclaim the love of Jesus to all people.
t
WORSHIP HAS RETURNED TO ST. ANDREW'S CHURCH
It will be held under Covid-19 regulations and it will be very different, so please read the following carefully:
The total number who attend is strictly limited to 30. All MUST wear face coverings throughout the Service and BE PREPARED TO FOLLOW THE BEHAVIOURS ASKED OF THEM BELOW, TO PROTECT OTHERS. Places will be booked via telephone on a dedicated phone number 07716765168 - which will be activated from 9.00 a.m. until 1.00 p.m. on the Thursday and Friday before the Sunday. Those phoning will be advised of the needs for attending and will be re required to leave their name and contact number (with Hazel or Leah) to create the required Track and Trace Register of attendees. This register of details will be kept for 21 days only, after any service.
Those advised of having a place should arrive no sooner than ten minutes before the service begins and wait in their cars or at social distance markers within the car park, until invited into the church by the Steward. Entrance will be via the Side-chapel side door only and doors will be open.
Persons will be asked to hand-sanitise before the steward will direct them to a seat filling the seats available from the FRONT FIRST, family groups may move a seat to sit together as supervised by steward. The service will not include any singing but prayers can be said, however persons are asked to keep face coverings on and remain in their seat until after the service ends.
Once the service has ended a steward will invite persons to leave FIRST from the REAR of the church and to do so promptly, without social interaction within the building. It will NOT be possible to have any refreshments after the service.+++
This sounds a little austere but we are hoping to have live music even if we cannot sing 😊 and look forwards to a shared, face to face, group worship experience. Other practical points are that we have moved our usual seating aside to allow use of the plastic chairs, for ease of cleaning and moving chairs, and the only toilet access will be via the ministers vestry (look to stewards for guidance). No pew bibles or hymn books will be available but you are welcome to bring and use your own. We plan that each service may last not more than 35 minutes and we will not be using the link corridor, coffee bar nor church hall toilets.
As you can appreciate, details may change and whilst we will aim to update all as soon as we are aware, please bear with us as we move to adapt to the needs of these unusual times. Your prayers for all involved with St Andrew's - congregation and wider church links, are very much appreciated… Hazel & Leah.
THE SERVICE FOR 20TH SEPTEMBER HAS BEEN PREPARED FOR US BY THE Mr. CHRIS ROBINSON
THIS SERVICE WILL TAKE PLACE AT, AND BE ZOOMED, FROM ST ANDREW'S CHURCH
PLEASE NOTE: THE CHURCH & ZOOM SERVICES WILL BEGIN AT 10.30 A.M.
We give a very warm welcome to Chris who is our preacher today it is good to have him with
us again today.
Come now the time for worship
Come now is the time to give your heart
Come just as you are to worship
Come just as you are before your God. Come.
Welcome and instructions/notices from the stewards
Hymn 456 (StF) And are we yet alive!
Prayers and Lord's Prayer
Thinking of all the good things that have happened recently in our lives
Tell God and praise and thank Him
Thinking of all that we wish hadn't happened especially if it was our fault
Tell God and ask for forgiveness for yourself and for the power to forgive others
Thinking of all we don't understand and how hard it is to know what is right
Tell God and ask for insight and inspiration.
Psalm 145: 8-19
Hymn 485 (StF) When we are living we are in the Lord.
Reading from Paul's letter written in prison in Rome to the new church at Philippi
chapter 1 verses 20 – 30
Message Living is Christ and dying is gain! (v21)
St Paul encourages the congregation at Philippi by telling them of his win-win situation and belief which has carried him through all sorts of disasters and dangers and is sustaining him now in prison. He knew he couldn't lose whatever so much so he couldn't decide which he preferred – a life with Christ on earth telling others of Jesus or a life with Christ in heaven! Paul even realised that his imprisonment had helped spread the good news of Jesus and his offer to all to live a different new life with his help as your Lord so in the end he reckons being alive a little longer will benefit more people than his death will and he hoped he could visit Philippi again – he never makes it.
Paul had seen the difference that Jesus made to people's lives and how forgiveness, love and gratitude conquer even the most basic human instinct of self-preservation, self-interest, selfishness. Jesus offers a life-changing, life-enhancing experience that lasts for ever. Now there is much talk these days of life-changing events and situations. Indeed the pandemic has changed life drastically for the world as a whole, never mind for each of us and it may be permanent – life will never be the same again, there'll be a new normal; people will in future look back and say 'before the virus…' like they used to say 'before the war…'
Equally you can look back on your life and recall life-changing experiences that were hugely significant and permanent – leaving home, falling in love, having children, death of parents, major illness or injury, death of a life-long partner. Each one a life-changer and not always welcome! But St Paul in his preaching and personal testimony often recalled one event in his life that surpasses all other in importance and scale – that of meeting Jesus, in his case in dramatic circumstances on his way to Damascus to imprison these new-fangled believers corrupting as he thought the Jewish faith. He ends up joining them and leading their mission!
Most Christians since have not had such a revolutionary change in beliefs, lifestyle and attitude when they met Jesus for the first time; most would say theirs was a slower more subtle experience but still resulting in life-changing. John Wesley's much recalled warmed heart hardly compares with St Paul's blinding vision and complete volte-face in Syria but it changed an academic Anglican vicar into a passionate leader of a new normal nicknamed Methodism.
U-turns these days get a bad press if they are from policy-makers and advisers of leading government politicians but St Paul recommends (as I continue to do so the best I can) U turn to Jesus and meet Him face to face and fall in love (again or for the first time) with Him. Paul reckoned he gained so much from the Life-changer that all his strict religious practices, all his scholarly insight were as nothing compared with meeting Jesus and knowing Him as a life-long friend. His was a rags-to-riches story not in the usual monetary sense of poverty to wealth but in the sense of purpose, hope and assurance in his life – life was so much richer even if far more hazardous, hard and hurting – his new normal.
What really changes when you meet Jesus and hear of His obedience, sacrifice, and universal and unconditional love is that you want imitate these attitude and practice and miraculously you are given the strength to do it. You consider others before yourself always; you follow the JOY routine – Jesus first, Others second and You last. Look how Jesus changed not just Saul to Paul but all those other cameos in the Gospels: Zacchaeus, Legion, Mary Magdalene, Nicodemus, Martha and all the others we only know as the woman at the well, the rich young ruler, the woman with bleeding that the doctors couldn't help etc. None of them ever the same again.
Covid 19 has forced many to reassess their lives even if it has not yet changed them. It has taught us what is really important in life, what do we really value, what is essential work – sometimes by it being taken from us and our life has been limited and is far more uncertain. Rev Derek Hoe said to me recently on the phone that he has not touched a fellow human being for 5 months. Despite the horrors and tragedies, may this time be a God-given opportunity for you to reassess and reorder your life so that it spells JOY for you and is your new normal. It will be hard at times, in extremis even life-threatening as it was for St Paul but if that is the case you will be given the faith to say Life is Christ, dying is gain!
Hymn: He who would valiant be 'gainst all disaster….
Prayers for others
Blessing (StF 472) May the Sending One sing in you/May the Seeking One walk with you
May the Greeting One stand by you in your gladness and in your grieving.
May the Gifted One relieve you/May the Given One retrieve you
May the Giving One receive you in your falling and in your restoring.
May the Binding One unite you/May the One Beloved invite you
May the Loving One delight you and give you joy in life unending!